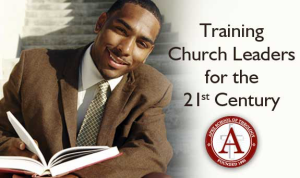 Apex School of Theology
The focus of the Apex School of Theology Distance Education Program is to provide learning opportunities for students who cannot matriculate on campus and for those persons with access to Internet-media interest in a Faith-based Christian curriculum with affordable costs from an accredited institution.
Online courses can lead to an Associate Degree in Christian Education; Bachelor Degree in Theology; Master of Christian Education Degree; Master of Arts in Christian Counseling Degree; and a Master of Divinity Degree. In addition to continuing education courses, certificate courses are also available.
Click here to read more about the school.
Dr. Charles E. Lewis, Sr., is the Director of Site 15, which is located in Greenville. He and his team of educators are looking for someone just like you to register for classes. For more information, cal1 252-830-4053. Pell Grants are available.
Continuing Education
Continuing Education courses will begin January 29th at our new location! Make plans to attend one of our registration sessions. Courses offered this session: Old Testament Survey & New Testament Survey. Attend the registration session to learn more about the courses offered and to sign up!